Ceisteanna Coitianta
Cén difríocht a dhéanfaidh beathú cíche?
Is é an rud is fearr é beathú cíche duitse, do do leanbh, don chlann agus don timpeallacht. Is é an bia is áisiúla, is cothaí agus an luach is fearr do do leanbh. Chomh maith leis sin, sábhálfaidh tú am agus airgead, faigheann tú dochruthaíocht ar ais níos tapúla agus cosnóidh sé do shláinte.
An mbeidh beathú cíche pianmhar?
Sna laethanta tosaigh, braitheann roinnt máithreacha míchompordach leis namothúcháin nua a bhaineann le beathú cíche. Féach ar an leathanach faoi 'Na Laethanta Tosaigh' chun leideanna a fháil chun déileáil le siní frithir. Is mothúchán nua eile í an frithluail "scaoilte" a tharlaíonn nuair a thosaíonn an bainne ag sreabhadh i dtreo na sine. Imíonn aon mhíchompord tar éis cúpla nóiméad de ghnáth. Muna n-imíonn sé, féach ar suíomh an linbh ar an mbrollach. Ach má tá amhras ort labhair le do bhean chabhrach, altra sláinte poiblí nó an Comhairleoir um Bheathú Cíche chun fáil amach an bhfuil do leanbh sa suíomh ceart. B'fhéidir go gcabhróidh na pictiúir seo leat: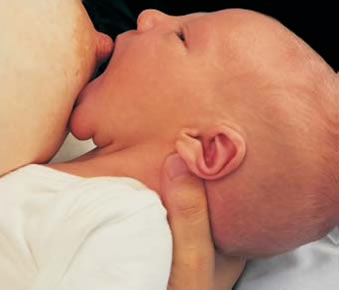 Féach cé chomh leathan atá a bhéal oscailte. Tá a liopa uachtair dírithe ar an tsine. Tá a cheann claonta ar chúl agus tá a smig chun tosaigh.
©Nancy Durrell McKenna
Anois tá sé chomh cóngarach dá mháthair, is ar éigean a bhfuil spás eatarthu. Níl a shrón i dteagmháil leis an mbrollach ach an oiread.
Cé chomh minic a dtabharfaidh mé bainne cíche do mo leanbh?
Go ginearálta, bíonn gá ag naíonán nuabheirthe chothú go minic. Tógann leanaí áirithe roinnt beag bainne go minic, agus fanann leanaí eile ag an mbrollach ar feadh tréimhse níos faide. Bíonn gach leanbh difriúil. Go minic bíonn an gnáthamh cothaithe meascán den dá rud nó is féidir leis athrú chomh maith. (m.sh. Chomh luath agus a cheapann tú go bhfuil gnáthamh ag do leanbh, tarlaíonn rábóg fháis dó agus teastaíonn níos mó bainne uaidh!). Ná déan dearmad, cuirfidh do bhrollaigh an bainne AR FAD ar fáil a theastaíonn ó do leanbh. Níl gá le sreabhánar bith eile. NÍOS MINICE A THÓGANN AN LEANBH AN BAINNE, NÍOS MÓ BAINNE A CHUIREANN TÚ AR FÁIL!
Cé chomh fada a mhairfidh cothú?
Seo ceist a bhíonn ag máithreacha, ach bíonn sé deacair freagra a thabhairt mar athraíonn sé ó dhuine go duine. Ná bí buartha – déan dearmad ar an gclog! Beidh fios ag do leanbh maidir lena riachtanais don bhia agus don chompord. Go ginearálta, tabhair brollach amháin dó ar dtús go dtí go scaoileann sé uaidh í tar éis dó bheith ag diúl agus ag slogadh ar feadh tamaill. Cinntíonn sé seo go bhfaigheann sé cothromaíocht idir a dhóthain sreabháin agus an bainne uachtair a thagann níos déanaí. Bíonn an dá chineál tábhachtach don fhás agus don fhorbairt.
Conas a mbeidh a fhios agam go bhfuil a dhóthain ag mo leanbh?
Ar dtús, tabhair bainne do do leanbh go dtí go dtitfidh sé ina chodladh nó go dtí go mbraitheann sé sásta. Scaoilfidh an chuid is mó leanaí an bhrollach uaithu nuair atá a ndóthain acu. Tairg an bhrollach eile dó i gcónaí – b'fhéidir go dtógfaidh sé í agus b'fhéidir nach dtógfaidh sé. Ná bí buartha múna bhfuil suim aige inti. Is féidir leat an bhrollach seo a thairiscint ar dtús ag an chéad chothú eile. Má tá amhras ort faoin bhrollach is fearr a úsáid chun tosú, bain úsáid as an mbrollach is iomláine ar dtús.
Conas a mbeidh a fhios agam cé mhéad bainne a bhfuil mo leanbh ag fáil?
Bíonn roinnt máithreacha buartha faoin mhéid bainne a fhaigheann a leanbh ag an mbrollach mar ní bhíonn siad ábalta a fheiceáil cé mhéad bainne atá an leanbh ag tógáil. Féadfaidh tú bheith cinnte "má bhíonn sé ag teacht amach faoi bhun, bíonn sé ag dul isteach ar bharr!"
Is comhartha maith é go bhfuil do leanbh ag éirí go maith nuair a bhíonn neartclúidíní salacha agus fliuch.
Féachann na clúidíní ag leanbh a fhaigheann bainne cíche difriúil ó leanbh a fhaigheann bainne foirmle. Féach ar an leathanach eolais seo ón NCT a cuireann síos ar na hionchais don chéad mhí nó mar sin.
Rinneadh athbhreithniúchán ar an leathanach seo i Meitheamh 2009
Translated from Cuidiú's Breastfeeding Support pages of this website by the Commercial Translation Centre.