Biežāk uzdotie jautājumi
Kāda ir barošanas ar krūti atšķirība?
Barošana ar krūti ir vislabākais Jums, Jūsu mazulim, ģimenei un videi. Tā ir visērtākā, barojošākā un visvērtīgākā pārtika Jūsu mazulim. Tas arī ietaupīs Jūsu laiku un naudu, atgriezīs ātrāk Jūsu formu un aizsargās Jūsu veselību.
Vai barošana ar krūti sāpēs?
Pirmajās dienās dažas mātes var atklāt, ka jaunās izjūtas, kas saistītas ar mazuļa barošanu ar krūti, ir neērtas. Aplūkojiet 'Pirmās dienas' lapu norādījumiem, kā tikt galā ar krūtsgalu sāpīgumu. Cita jaunā izjūta varētu būt "pieplūdes" reflekss, kurš parādās, kad piens sāk plūst uz krūtsgalu. Jebkurš diskomforts parasti pazūd pēc pāris minūtēm. Ja tā nenotiek, pārbaudiet mazuļa stāvokli pie krūts, bet, ja ir šaubas, jautājiet savai vecmātei, valsts veselības aizsardzības medmāsai vai konsultanta par barošanu ar krūti, lai redzētu, vai Jūsu mazuļa stāvoklis ir pareizs. Jūs varētu sekojošos attēlus uzskatīt par noderīgiem: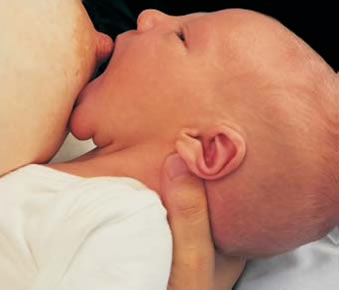 ©Nancy Durrell McKenna
Paskatieties, cik plati viņš atver savu muti. Un viņa virslūpa ir nomērķēta uz krūtsgalu. Viņa galva ir atliekta atpakaļ un viņa zods ir vizīts uz priekšu
©Nancy Durrell McKenna
Tagad viņš tik tuvu savai mātei, ka Jūs ar grūtībām varētu iedabūt lapu starp viņiem. Viņa deguns arī ir attālināts no krūts.
Cik bieži man vajadzētu barot ar krūti savu mazuli?
Kopumā jaundzimušos mazuļus nepieciešams barot bieži. Daži mazuļi ēd "maz un bieži", kamēr citi paliek pie krūts ilgāk. Katrs mazulis ir atšķirīgs un bieži barošanas režīms var būt abu kombinācija vai var mainīties (piem., kolīdz Jūs domājat, ka Jūsu mazulim ir ierasta kārtība, viņam notiek augšanas izrāviens un ēd biežāk nekā iepriekš!). Atcerieties, ka Jūsu krūtis nodrošina VISU pienu, kas nepieciešams Jūsu mazulim. Nekādu papildu šķidrumi nav vajadzīgi. JO VAIRĀK JŪS BAROJAT AR KRŪTI, JO VAIRĀK PIENA JŪS VEIDOJAT!
Cik ilgi barošanai jāilgst?
Tas ir jautājums, ko mātes jautā, bet uz to ir grūti atbildēt, jo tas mainās ļoti spēcīgi. Neuztraucieties, mēģiniet aizmirst par pulksteni! Jūsu mazulis parādīs savu nepieciešamību pēc ēdiena un komforta. Galvenais noteikums ir - piedāvājiet vispirms vienu krūti, līdz viņš pats palaiž pēc kāda laika, ka nav acīmredzamas zīšanas un rīšanas. Tas nodrošinās, ka viņš sasniegs labu līdzsvaru starp šķidrāko un vēlāko biezāko pienu, no kuriem abi ir nepieciešami augšanai un attīstībai.
Kā es varu uzzināt, kad manam mazulim ir pietiekami?
Sākumā barojiet savu mazuli, kamēr viņš iemieg vai šķiet apmierināts. Lielākā daļa mazuļu atlaiž krūti, kad viņiem ir pietiekami. Vienmēr piedāvājiet otru krūti – viņš var vai nevar to pieņemt. Ja viņš nešķiet ieinteresēts, neuztraucieties. Jūs šo krūti varat piedāvāt pirmo, ka barosiet nākamo reizi. Ja neesat pārliecināta, ar kuru krūti sākt, barojiet vispirms no pilnākās puses.
Kā es varu zināt, cik daudz mans mazulis uzņem?
Tāpēc, ka Jūs nevarat redzēt, cik daudz piena tiek izdzerts, dažas mātes bažījas, ka viņas nezina, cik daudz piena viņu mazulis uzņem, kamēr viņas baro ar krūti. Jūs varat mierīgi pārliecināties "ja tas iznāk pa apakšu, tam jāieiet pa augšu!"
Daudz slapju un netīru autiņbiksīšu ir labs rādītājs, ka Jūs mazulim klājas labi.
Ar krūti barotu mazuļu autiņbiksītes izskatās atšķirīgas no to mazuļu, kuri baroti ar maisījumu. Apskatiet šo informācijas lapu no NCT, kura paskaidro, ko Jūs varētu sagaidīt pirmajā mēnesī vai tā laikā.
Lapa pēdējo reizi rediģēta 2009. g. jūnijā
Translated from Cuidiú's Breastfeeding Support pages of this website by the Commercial Translation Centre.