Dažniausiai užduodami klausimai
Koks skirtumas ar maitinti krūtimi, ar kitaip?
Maitinimas krūtimi – geriausias Jums, Jūsų kūdikiui, šeimai ir aplinkai. Tai patogiausias, maistingiausias ir aukščiausios vertės maisto produktas kūdikiui. Be to, taip sutaupysite laiko ir pinigų, greičiau atsistatys pageidaujamos kūno formos ir bus saugoma Jūsų sveikata.
Ar skauda maitinant krūtimi?
Pirmosiomis dienomis kai kurios mamos maitindamos kūdikį krūtimi gali jausti diskomfortą. Žr. "Pirmosios dienos" puslapį, kur rasite patarimų kaip elgtis, jei speneliai labai jautrūs. Kitas neįprastas pojūtis – "tekėjimo" refleksas, kuris pasireiškia, kai pienas ima tekėti link spenelio. Bet koks pirminis diskomfortas dažniausiai dingsta po keleto minučių. Jei nedingo, reikia pažiūrėti ar gerai kūdikis priglaustas prie krūtinės, o ir toliau abejonėms neapleidžiant, kreipkitės į akušerę, visuomeninės sveikatos priežiūros slaugę ar maitinimo krūtimi konsultantą, kurie pažiūrės, ar kūdikis tinkamai laikomas. Gali pagelbėti ir toliau pateikti paveikslėliai: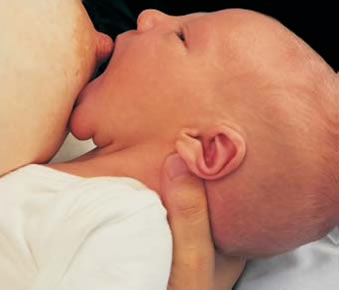 ©Nancy Durrell McKenna
Pažiūrėkite ar plačiai kūdikis išsižiojo. Jo viršutinė lūpa turi būti nukreipta link spenelio. Galvą reikia palenkti atgal, o smakrą pirmyn.
©Nancy Durrell McKenna
Kūdikis tiek turi būti priglaustas prie mamos, kad sunkiai ir popieriaus lapą būtų galima tarp jų įkišti. Negalima prie krūtinės prispausti nosies.
Kas kiek laiko reikia maitinti kūdikį krūtimi?
Bendrai paėmus, naujagimius reikia dažnai maitinti. Kai kurie kūdikiai "valgo" mažiau, bet dažnai, o kitiems užtenka ilgiau. Kiekvienas kūdikis skirtingas, todėl dažnai maitinimo intervalai nustatomi pagal abiejų poreikius, nors jie ir gali keistis(pvz., kai tik imsite galvoti, kad nusistovėjo maitinimo grafikas, jo augimo procesai gali suintensyvėti, ir jis ims maitintis daugiau!). Nepamirškite, kad Jūsų organizmas pagamins TIEK pieno, kiek kūdikiui reikės. Nenaudokite jokių skystų pakaitalų. DAUGIAU MAITINSITE, DAUGIAU BUS IR PIENO!
Kiek maitinimas turi trukti?
Tai klausimas, kurį mamos dažnai užduoda, tačiau į jį sunku atsakyti, nes nėra vieno atsakymo. Nesijaudinkite ir stenkitės apie laiką negalvoti. Kūdikis vadovausis savo poreikiais, prašydamas maisto ir dėmesio. Reikia pirmiausia duoti jam vieną krūtį, kol jis pats prieš tai kurį laiką akivaizdžiai nepažindęs ir nenurijęs pieno nepaleis. Tai garantuoja, kad bus gerai subalansuotas skystųjų medžiagų kiekis ir riebalinis pienas, nes ir tas ir tas svarbu augant ir vystantis.
Kaip žinoti ar kūdikiui jau užtenka?
Iš pradžių maitinkite savo kūdikį tol, kol jis užmigs arba atrodys pasisotinęs. Dauguma kūdikių paleidžia krūtį, kai pasijunta sotūs. Visuomet pasiūlykite kitą krūtį – jis gali ją priimti arba nepriimti. Jei atrodys, kad ja nesidomi, nesijaudinkite. Šią krūtį kitą kartą galėsite pasiūlyti pirmoje vietoje. Jei nežinote kurią krūtį pasiūlyti pirmiau, tada pradėkite nuo tos, kuri atrodo pilnesnė.
Kaip žinoti kiek pieno kūdikis išgeria?
Kadangi nesimato kiek pieno išteka, kai kurios mamos jaudinasi, kad vaiką maitinant krūtimi negalima žinoti, kiek jis išgeria. Galite nė neabejoti – "jei vystyklus reikia keisti, tai jis "privalgo" tiek, kiek jam telpa!"
Jei į vystyklus gausiai šlapinasi ir tuštinasi, tai geras požymis, kad su Jūsų mažyliu viskas tvarkoje.
Krūtimi maitinamų kūdikių vystyklai būna skirtingi nuo tų, kurie maitinami su pritaikytais mišinėliais. Pažvelkite į šią NCT informacinę išklotinę, kurioje paaiškinama ko galima tikėtis per pirmąjį mėnesį ir panašiai.
Puslapis paskutinį kartą tikrintas 2009 m.
Translated from Cuidiú's Breastfeeding Support pages of this website by the Commercial Translation Centre.