Najczęściej zadawane pytania
Co daje karmienie piersią?
Karmienie piersią jest najlepszą metodą dla Ciebie, Twojego dziecka, rodziny oraz środowiska. To metoda najwygodniejsza, pokarm jest pożywny i najodpowiedniejszy dla dziecka. Zaoszczędzisz czas i pieniądze, wrócisz do formy szybciej. Ta metoda pomoże Ci chronić Twoje zdrowie.
Czy karmienie piersią boli ?
W pierwszych dniach karmienia, niektóre mamy mogą doznać dyskomfortu związanego z karmieniem piersią dziecka. Powróć do strony 'Pierwsze Dni' aby uzyskać informacje jak radzić sobie z nadwrażliwością sutka. Innym uczuciem może być odruch zatrzymania mleka napływającego do sutka. Uczucie to mija po kilku minutach. W przeciwnym razie, skontaktuj się ze swoją położną, lekarzem pierwszego kontaktu lub Doradcą ds. Karmienia Piersią. Poniższe zdjęcia mogą okazać się pomocne przy ocenie czy Twoje dziecko znajduje się w odpowiedniej pozycji.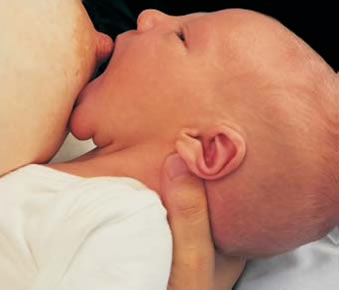 ©Nancy Durrell McKenna
Spójrz jak szeroko są otwarte usta. Górna warga zmierza w kierunku sutka. Głowa jest lekko odchylona do tyłu a broda skierowana do przodu.
©Nancy Durrell McKenna
Jest tak blisko, ze nie można włożyć kartki papieru pomiędzy dziecko a pierś. Nos nie styka się z piersią.
Jak często należy karmić piersią dziecko?
Ogólnie, rzecz biorąc, noworodki muszą być karmione często. Niektóre dzieci są karmione "krótko ale często", inne są karmione długo. Każde dziecko jest inne, a metody karmienia mogą być połączeniem dwóch powyższych lub mogą ulegać zmianie (Np kiedy już uważasz, że dziecko wykształciło rutynową potrzebę karmienia, nagle pojawia się jego wzrost i potrzebuje więcej pokarmu niż uprzednio!). Pamiętaj, twoje piersi dostarczają tyle mleka ile dziecko POTRZEBUJE. IM CZĘŚCIEJ KARMISZ, TYM WIĘCEJ MLEKA PRODUKUJE TWÓJ ORGANIZM!
Jak długo powinno trwać karmienie?
Pytanie to zadaje sobie większość Mam, ale trudno znaleźć na nie odpowiedź. Nie martw się, staraj się nie myśleć o zegarku! Twoje dziecko kieruje się zapotrzebowaniem na jedzenie. Podawaj dziecku najpierw jedną pierś. To zapewnia, że dziecko otrzyma zbilansowane pożywienie i bardziej kremowe mleko, które są potrzebne dla wzrostu i rozwoju.
Kiedy wiem, że dziecko dostało odpowiednią ilość pokarmu?
Najpierw należy karmić do momentu kiedy dziecko zaśnie lub sprawia wrażenie sytego. Większość dzieci wtedy puszcza sutek. Zawsze oferuj drugą pierś – dziecko może przyjąć ja lub odrzucić. Jeśli dziecko nie jest zainteresowane, nie przejmuj się. Możesz podać tę pierś jako pierwszą następnym razem. Jeśli nie jesteś pewna od której piersi zacząć, rozpocznij od piersi, która jest najbardziej wypełniona.
Skąd wiem ile pokarmu pobrało dziecko?
Niektóre mamy są zaniepokojone tym, że nie wiedzą ile dokładnie pokarmu pobrało ich dziecko. Ale uspokajamy, że "jeśli wychodzi na dole, to musiało wejść górą!"
Brudne i mokre pieluchy oznaczają, że dziecko ma się dobrze.
Pieluchy dzieci karmionych piersią różnią się od pieluch dzieci karmionych sztucznie. Spójrz na tą Ulotkę Informacyjną z NTC, która opisuje czego można się spodziewać w pierwszym miesiącu.
Ostatnia rewizja strony czerwiec 2009
Translated from Cuidiú's Breastfeeding Support pages of this website by the Commercial Translation Centre.